The 54th National Gem & Mineral Show, GEMBOREE 2018 will be held in Willunga – South Australia 30 March – 2 April 2018
This event is staged by Gem and Mineral Clubs Association of South Australia, on behalf of Australian Federation of Lapidary and Allied Crafts Association.
Hours are Fri 12 -5, Sat & Sun 9-5, Mon 9-12 at Willunga Recreation Park, Enter via Festival Hall or Railway Terrace. Adults $8, Students/ Seniors $5, Family Pass (2 Adults & 2 Chn 14 -18) $15, Children under 14 FREE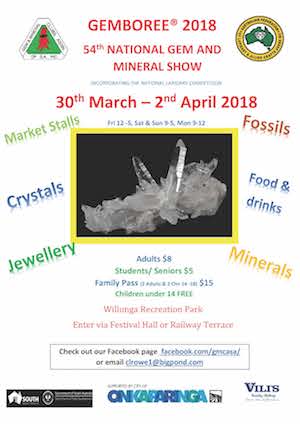 GEMBOREE Booklet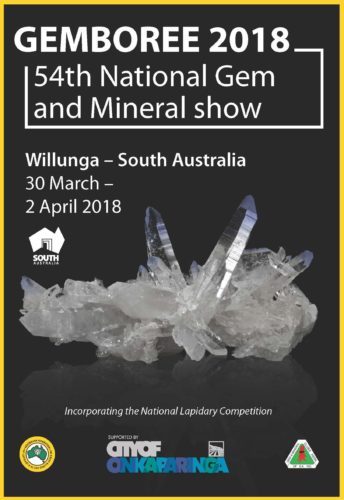 The Booklet for GEMBOREE 2018 is now available
GEMBOREE 2018 booklet (9.4MB pdf)
Amendments to GEMBOREE 2018 Booklet (15KB pdf)
For those that require Public Liability Insurance, it can be arranged through Tracey Pearce at Webster Hyde Heath Insurance Brokers.  The annual cost including all fees and charges is $130.  If interested please contact Tracey on P: 08 8362 5553  M:  0408 177 464  E: tracey@whhib.com.au and quote the word "tailgater".
GEMBOREE 2018 Committee
PO Box 357 Blackwood SA 5051  clrowe1@bigpond.com
Convenors: Tony Noel: 0427 242 145 and Chris Rowe: 0400 207 095
Secretary: Alan Foote  aandrfoote@bigpond.com
Treasurer: Lyn Rowe  clrowe1@bigpond.com  0414 917 236
Competition Manager: Doug Hughes  dougjeph@gmail.com  0408 782 112
Field Trip Officer: Kym Lochiel