GEMBOREE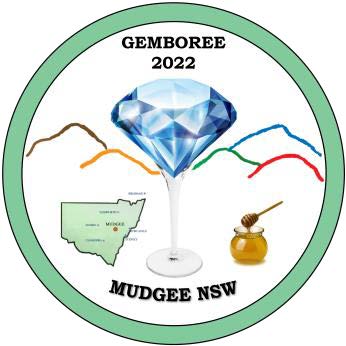 GEMBOREE 2022 Mudgee NSW
The 58th National Gem & Mineral Show will be held over Fri 15 April to Mon 18 April 2022 at MUDGEE NSW.
Open 10am-5pm Friday, 9am-5pm Saturday & Sunday and 9am-1pm Monday
The Venue is at the Australian Rural Education Centre (AREC) 267 Ulan Road Bombira NSW 2850 (located 2.5 kms north of Mudgee township).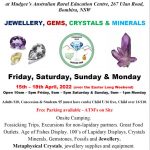 Adults $10, Concession & Students $5 (must have cards) Child U16 free, Child over 16 $10
Free parking available, ATMs on site.
Onsite Camping.
Fossicking Trips, Excursions for non lapidary partners. Great Food Outlets. Age of Fishes Display. 100s of Lapidary Displays Crystals, Minerals, Gemstones, Fossils and Jewelley .
At Least 30 Dealers, plus large numbers of tailgaters.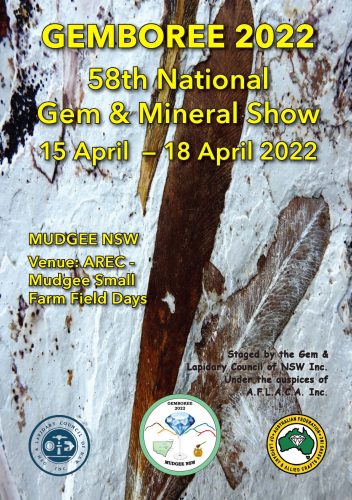 GEMBOREE 2022 Booklet is now available to download here
Booklet GEMBOREE 2022 24.6 MB
Forms
GEMBOREE Dinner Form
Commercial TAILGATING APPLICATION FORM
Mudgee Accommodation If you wish to book accommodation in Mudgee you should do it as soon as possible, as the accommodation is filling up fast!
Non Commercial TAILGATING APPLICATION Form
Registration Form GEMBOREE 2022 MUDGEE
Voluntary Assistance form GEMBOREE 2022
Diagrams of Facet Designs in Word
2022A GMB SRB Cont QUARTZ O-N-J
2022B GMB SRB Cont TOPAZ INT
2022C GMB FACETED CORUNDUM
2022D GMB OBLONG LABRA
2022E SQU STEPSPINEL
2022F GMB SQU STEP TOPAZ
2022G TUMBUKA FULU OPEN 10 TOPAZ
2022H DOUBLE SQUARE BARION OPEN CZAA
2022I GMB CHEVHEXCZ INT 10.3 CZ
2022J GMB Gold Octagon Novice
2022K GMBNOVIMMX Junior10 Quartz
2022L KRISTEN_S APEX OPEN 11 CORUNDUM
2022M GMB RINGS OF FIRE O-11.2 Cor
2022N MINI HEXAGON APEX INTER 11
2022O GMB USFG-1 NOVICE 11
Past GEMBOREES
For results, photos and reports from earlier GEMBOREEs visit our History page
https://aflaca.org.au/history/

Locations for future GEMBOREEs
2022 NSW, 2023 QLACCA, 2024 South Australia, 2025 Victoria, 2026 Tasmania, 2027 NSW, 2028 QGCA, 2029 South Australia, 2030 Victoria.
Here are a few photos from GEMBOREEs, more are in the GEMBOREE Gallery

Return to Top