GEMBOREE
GEMBOREE 2021 will be held at Hobart Show Grounds, Glenorchy from 2nd to 5th April 2021.
Please note that, contrary to fake news, GEMBOREE 2021 is going ahead.
GEMBOREE 2021 Manager.
The booklet for GEMBOREE 2021 is now available! Below are two sizes of file you may download. The full size high quality files and a reduced quality files which are the same information but lower resolution to make them easier to download on slow connections.
Amendments to Booklet
Please note the following changes to the GEMBOREE 2021 Booklet.
Special Conditions page 24. Sections K and L are not longer applicable to the GEMBOREE 2021.
Full size files
2021 BOOKLET COMPLETE FOR WEB 9.9MB
2021 BOOKLET FORMS & COMPETITION SECTION 16.1MB
Reduced size files (for slower internet connections)
2021 BOOKLET COMPLETE FOR WEB V_08042020_small_file 5.5MB
2021_BOOKLET_Extract _of_FORMS_and_COMPETITION_SECTION_v_08042020_small_file 3.4MB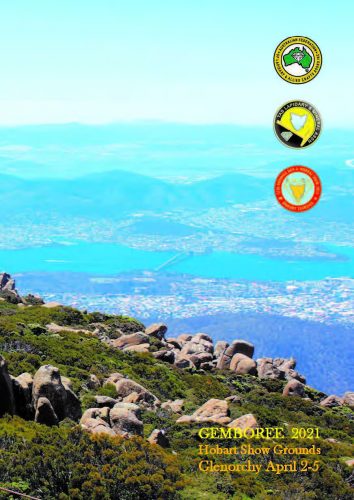 Past GEMBOREES
GEMBOREE 2020 Australia's National Gem, Mineral & Fossil Show, planned for 10th to 13th of April 2020 in Albury was cancelled, to comply with the Government ban on large gatherings. For results from the 2020 GEMBOREE Competition, visit our
GEMBOREE 2020 Page
For results, photos and reports from earlier GEMBOREEs visit our History page
https://aflaca.org.au/history/

Locations for future GEMBOREEs
2021 Tasmania, 2022 NSW, 2023 QLACCA, 2024 South Australia, 2025 Victoria, 2026 Tasmania, 2027 NSW, 2028 QGCA, 2029 South Australia, 2030 Victoria.
Here are a few photos from GEMBOREEs, more are in the GEMBOREE Gallery

Return to Top