GEMBOREE
60th National Gem & Mineral Show, GEMBOREE 2024 South Australia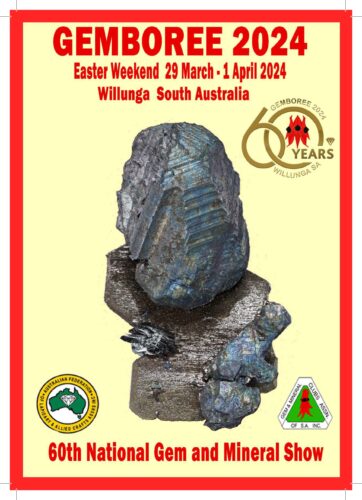 Our next National Gem & Mineral Show, GEMBOREE 2024, will be held in Willunga South Australia over Easter from 29 March – 1 April 2024
The GEMBOREE 2024 Booklet and accompanying documents may be downloaded here
GEMBOREE 2024 Booklet 
Amendments to download
Corrections to Booklet 2024 pdf version
Corrections to Booklet 2024 Word version
Facet designs to download
For the competition in A4 size that can be downloaded and printed
Gemboree 2024_designs_A5_version CORRECTED DIAGRAMS pdf version
Gemboree 2024_designs_A5_version CORRECTED DIAGRAMS Word Version
The GEMBOREE 2024 committee sincerely apologises to everyone concerned for the inconvenience caused by a significant number of errors in the GEMBOREE booklet. Thank you to those who have identified and notified us of these errors.
Thank you to Carol van der Pennen for her work with GCS to correct these errors.
Please find below the full set of faceting diagrams. The errors occurred on the Standard Round Brilliant – Faceted Girdle; Standard Oblong Step Cut with cut corners; the Meridian Cut; and the Petunia.
We have investigated how these errors occurred in order to prevent a future occurrence like this.
Yours sincerely
Chris Rowe
GMCASA President

Past GEMBOREES
GEMBOREE 2023 Dayboro Results and Photos are here
For results, photos and reports from earlier GEMBOREEs visit our History page
https://aflaca.org.au/history/

Locations for future GEMBOREEs
2024 South Australia, 2025 Victoria, 2026 Tasmania, 2027 NSW, 2028 QGCA, 2029 South Australia, 2030 Victoria.
Here are a few photos from GEMBOREEs, more are in the GEMBOREE Gallery

Return to Top