GEMBOREE
The 53rd National Gem & Mineral Show, GEMBOREE 2017 will be held in Lithgow, NSW 14th – 17th April 2017
Latest Newsletter!
GEMBOREE 2017 Newsletter March 2017 4.8 MB
GEMBOREE 2017 – All Newsletters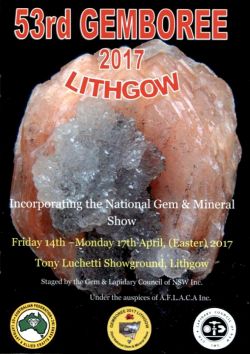 GEMBOREE Booklet
The Booklet for GEMBOREE 2017 is now available
Booklet GEMBOREE 2017 v11-5-2016 (pdf 7.5 MB)
For those that require Public Liability Insurance, it can be arranged through Tracey Pearce at Webster Hyde Heath Insurance Brokers.  The annual cost including all fees and charges is $130.  If interested please contact Tracey on P: 08 8362 5553  M:  0408 177 464  E: tracey@whhib.com.au and quote the word "tailgater".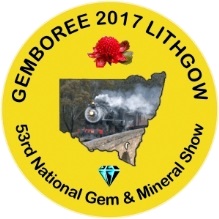 GEMBOREE 2017 Contacts
Venue: Tony Luchetti Showground Lithgow NSW
Coordinator: Colin Wright
13 Geoffrey Crescent, Loftus NSW 2232 Ph 02 95212688 M 0418286003
coldel1@hotmail.com
Competition Chairmen: Barbara Try & Anette Clarke
PO Box 60, Ourimbah NSW 2258 Ph 02 43415277 or 02 43936168 & 0417676435
aeamclarke@gmail.com or twotrys@bigpond.net.au
Dealer Chairman: Marilyn Behrens
PO Box 163, Wentworthville NSW 2145 Ph 02 9635 8218
mbehrens@optusnet.com.au
Tailgating Chairman: Ernst Holland
PO Box 1351, Bathurst NSW 2795 Ph 02 63373661 M 0427373661
ernst.holland@bigpond.com
GEMBOREE 2017 Publicity Officer and Newsletter Editor: Alan McRae, FAIHA
amcrae@lisp.com.au
Major Raffle prizes for the GEMBOREE 2017.
1st  Prize is an Russian Topaz which was donated by Arthur Roffey and set in S/Silver by Ainslie Flynn from Western Suburbs Lapidary Club
2nd Prize is a Chrysoprase Bracelet which was subsidised by Preyas Jewellery
3rd Prize is a voucher for the Alexandra Hotel at Leura – donated by said Hotel
4th Prize is a Adamite Specimen which was subsidised by Crystal Habit
5th Prize is an Enamelled Bowl made and donated by Annette Clarke from Central Coast Lapidary Club
And lots more prizes to win!
Photos of some of the prizes are below:
Here are the locations for future GEMBOREEs
2017 Lithgow, 2018 Willunga, 2019 Rockhampton (by QGCA), 2020 Victoria, 2021 Tasmania, 2022 NSW, 2023 QLACCA, 2024 South Australia, 2025 Victoria, 2026 Tasmania, 2027 NSW, 2028 QGCA, 2029 South Australia, 2030 Victoria.
For results, photos and reports from past GEMBOREEs visit our History page
http://aflaca.org.au/history/
Here are a few photos from GEMBOREEs, more are in the GEMBOREE Gallery

Return to Top